i decided to start this blog after reading countless other nutrition review sites, which i am a fan of. i started to realize thought that there isn't much out there from a younger point of view. it is a known fact that america is obese but i think it is becoming clear that people want to change their lives and are trying to live a healthier lifestyle. i made this choice myself about two years ago. now i am a proud and fit foodie, who can hopefully stay this way. i love to eat out though it may be hard sometimes. i love trying new things, eating lots of fruits and vegetables, sometimes i feel like a vegetarian but i don't think im quite ready for that haha i do like my meat and poultry on occasion. i am addicted to spinning, its pretty much the only exercise i have mastered. i tried step class, yoga etc i just can't get into them like i can get into spinning. now enough about me. i'm sure i'll review tons of things you have seen before but if there are any suggestions for anything you would like to see reviewed i would gladly review it if you leave a comment =) or email me now heres the first review of my site!
Crispy Green's Crispy Apples & Pineapples
i picked these guys up randomly at a gourmet-ish grocery store near my house. i was randomly shopping for ingredients to a thai peanut dressing, which i will deff share the recipe for later =) anyway these looked really interesting and were about a dollar so i decided to give them a try. i naturally got a pack of the apples, one of my favorite fruits, and then i got a pack of the pineapples because i am also a fan of them & i've never seen dried pineapples before. i was completely surprised i loved both of them ! the apples tastes reminiscent of apple jacks cereal without all the added suagr & the pineapples were pineappley & delicious.the apples are 35 calories with 0 grams of fat & the pineapples 36 calories with 0 grams of fat. they each have about 1 gram of fiber and some natural sugars. these are nutritious and a perfect snack or for breakfast with some milk and granola or yogurt. i highly recommend them. i was also surprised at how much they looked like actual fruit. i was expecting them to be shriveled and brown as i have seen dried fruit like that before but these were perfectly colored and appetizing.heres an acurate picture: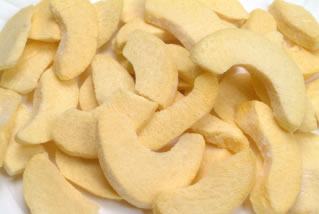 check out their website to find crispy greens near you. (
www.crispygreen.com
) the only downfall i must say is they are a little pricey for such a little packet but if your willing to pay they are defiantly worth it!


Quick Overview:

please leave some comments i would like to get some feedback or advice for the site =) also feel free to email me ! thank you - HCT